If you've ever heard the mellow strums of the blues acoustic guitars, or the gently plucked notes of a classical performer, or the blazing tones of a fingerstyle guitarist hammering on his acoustic six-stringer, and thought, "Man, I wish I could do that!", you're not alone!
There is something simply elegant and magical about an acoustic guitar that sometimes can't be described, or in this case, written about. But one thing is for sure! If you decide to pick up the acoustic guitar, a crucial decision you have to make is to determine what kind of guitar to buy.
It doesn't matter if you're a novice just starting to learn, or an accomplished acoustic guitarist, purchasing that new guitar is always something you have to consider a lot of factors and think through before making your choice. The primary reason is that there are a lot of factors that determine the sound and quality of an acoustic guitar. Some of these factors include the Body style, Intonation, Neck, Tonewood, Fretboard, etc. and extends to aesthetic features like appearance, shape, and form. To top it all off, you have to get one that fits your budget.
All these factors can be mind-numbing and confusing sometimes. But that's precisely why we have compiled this article. This guide will be your final stop in hours of research because we intend to give you that comprehensive and objective assessment of what to look for in blues acoustic guitars, and the current best acoustic guitars out there in the market!
Guitar Name
Best features
Editor's Rating
Check Price
Epiphone Hummingbird Pro
Rosewood fingerboard
Classic Slim Taper D profile neck
10
Check price
Yamaha FG800 Solid Top Acoustic Guitar
Solid Sitka Spruce Top
Rosewood bridge and fretboard
10
Check price
Fender CD-60SCE
Fishman Pre-amp and Tuner
Classic Dreadnought Cutaway Body Design
9.5
Check price
Yamaha F310
Gloss body finish and Matt Neck
Spruce Top
9
Check price
Takamine GN93CE
Solid Spruce Top
Mahogany Neck
9
Check price
Yamaha NTX1200R
Solid Sitka Spruce Top
Ebony Fingerboard
8.5
Check price
Gretsch G9200
Mahogany body
Ampli-Sonic cone
8
Check price
Taylor 214 CE DLX
Grand Auditorium Body style
Taylor ES2 Electronics
8
Check price
Cordoba C10 Nylon String Classical Guitar
Solid European Spruce Top
Ebony Fingerboard
7.5
Check price
Lindo LDG-46 Widow acoustic guitar
Mahogany neck
Back and sides made of Acacia
7
Check price
 Table of contents
Before we start reading the list of the best blues acoustic guitars in 2020, let's get some basics down first. Making the right choice often implies knowing what you want to buy. When it comes to buying your guitar, ignorance is most definitely not bliss! On the contrary, it can lead you to waste money or to end up with an instrument that is not suited to your level or playing style. With that caution in mind, let's delve into what factors you need to consider before you get that six-string you've been eyeing at the local store!
Your budget and purpose
The first thing you need to consider is how much you're willing to pay for your guitar. The use of the guitar and your budget are inextricably linked because it implies your level of playing as well as the things you may likely do with it. For example, if you are just beginning your blues guitar journey, it may not make sense to lavishly waste money on a model with too many additional features that you may not fully utilize at your current skill level. On the other hand, if you are a more established player who's looking for better sound and build for personal use as well as performing, investing in a good guitar is the wisest choice you can make!
The body style and sound of the blues acoustic guitars
Most blues acoustic guitars seemingly appear to be following the same template or design. But there are intricacies in the making and building of these instruments that can drastically affect the way it sounds and performs. Body styles varies  from Concert, Grand Concert, Auditorium, Grand Auditorium, etc. to Dreadnought or Jumbo depending on their size, the Concert is the smaller size and the Jumbo being the big boom bodies. Most of the guitars featured here are Dreadnought sizes that give enough volume while being at a convenient size. There are also mini-acoustics or Travel guitars that are compact, light-weight, and are constructed on minimum dimensions. The main aim being portability and convenience of carrying around while travelling from one gig to another.
Some blues acoustic guitars can have an asymmetrical shape with the lower half of the front body made to look like a section was cut off. These designs are called 'cutaway', and they let you reach for the highest frets in the fretboards without having to stretch your fingers to unreasonable degrees.
Wood and Build
The kind of wood used and the method of construction is one of the core features of a guitar. They are crucial because they determine how the guitar will sound and how durable its quality will be (Some guitars sound better with age, while others deteriorate in tone). The guitar tops (the part right below your chin) can either be solid wood, or laminated wood (layers). Solid tops give a richer and more vibrant sound, but laminated tops won't be as expensive. The Tone woods also play a big part in determining the quality of sound of the guitar. Some of the popular Tonewood choices include Spruce, Mahogany, Rosewood, Ebony, Maple, Wall-nut, etc. Each of these brings qualities such as weight, brightness (of sound), mellowness, depth, bass inclined, treble inclined, mid-tones, resonance, etc. We'll see examples of some of these woods in our top ten list below.
Personal Taste and Preference
While this aspect will not affect the sound quality for your instrument (Actually it might, because it'll affect your mood), your own preferences and prejudices may be considered while choosing your instrument. Shape, style, color, appearance, and overall aesthetics play a big part in how you bond with your instrument, and in effect, how you play. You have to own and possess your instrument. The more proficient you become, the more your guitar will feel like an extension of yourself. It may seem like an abstract idea that has nothing to do with buying a blues acoustic guitar, but it's true. As you start to look at these different models and types, pay attention to how you feel and respond to certain designs and looks. For all we know, your dream guitar could be right here!
So these are some of the basic parameters you need to keep in mind as you narrow down on which make or model to buy. As mentioned earlier, whether you are a beginner looking for your first guitar to strung and strike, or a veteran looking to upgrade on a more refined model, we want you to get the most information out of this article so that you make the best possible choice. Now let's get to the fun part.
Here are the best blues acoustic guitars in the market as of now. We haven't listed the price because the exact number may fluctuate across a few dollars as the market changes. We leave that responsibility to you to check the respective sites or go check out the rates at your nearest store. However, you can rest assured that our assessment will make you more informed, and help you decide what kind of guitar will suit your level and style the most. So here we go!
The Hummingbird Pro is simply a class apart when it comes to the plethora of blues acoustic guitars that are vying for your attention. The Hummingbird's simple but sweet sound will cut through the noise of other instruments, and it can single-handedly spearhead an acoustic ensemble, or give you that mellow tone you need for a more relaxed sound. When you say 'vintage', we picture Keith Richards on stage with his Hummingbird strumming to classic Rolling Stones numbers. Trends and models may change, but the Hummingbird Pro has shown that Epiphone is here to stay. Its specifications are:
Solid Spruce Top and Mahogany Body/sides
Rosewood fingerboard
Classic Slim Taper D profile neck
Pickguard with vintage Hummingbird Artwork
The spruce top and mahogany body or side, combine to give you a vibrant blend of sharp tones and rounded notes. Although slightly on the higher end of the price spectrum, the Hummingbird Pro is one guitar you will not outgrow, simply because of its timelessness and exceptional quality. The mahogany body gives you great control on mid-level tones which other guitars will not match up to. The Shadow Pick-up System ensures that you retain the 'acoustic' quality of its sound regardless of the output system you may be plugged in to.
The Yamaha FG800 takes the second spot among the huge variety of blues acoustic guitars available today. The Solid Sitka Spruce top ensures that it's sound dynamics cover a broad range of music styles, making it one of the most versatile and potent instrument on this list. Yamaha guitars are renowned for their easy playability and well-balanced features. The FG800 embodies all that is great about Yamaha guitars. If you think we're ki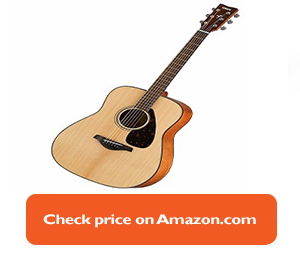 dding, just take a look at the scores of professional musicians who still go for Yamaha even if their management can offer them the most expensive models.
The FG800 is available in both the Concerto and Dreadnought design, so you can go for the size and shape that appeals to you more. The main features of the Yamaha FG800 are:
Solid Sitka Spruce Top
Rosewood bridge and fretboard
Nato (eastern mahogany) back and sides
Die-cast tuners and adjustable rod
The FG800 beats the competition in almost every parameter, because of its superior build, diverse tonality, and excellent playability. The best part is that all these features are available to you in a price range that doesn't burn a hole in your bank account. If we had to sum up the FG800 is four words, it would be, "Great sound, Better Price!"
The CD 60SCE is a revamped version of Fender's Classic Design Series that were extremely popular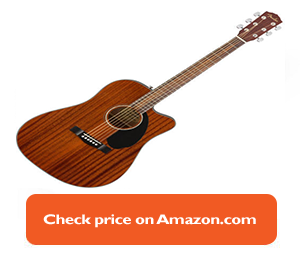 back in the day. The 'S' in the name represents the new Spruce Top that has been added for better sound. This also means that the sound will get better as the guitar ages: Did somebody say 'Aging like fine wine?'
The cutaway design lets you access the smaller and higher frets without too much difficulty. Also, the back of the fretboard is rounded so that you get a more convenient left-hand position, especially while going for those intricate riffs and complicated chords.
Classic Dreadnought Cutaway Body Design
Fishman Pre-amp and Tuner
Solid Mahogany Top and Mahogany Back and Side Woods
Rounded fingerboard edges for easy playing
These features make the CD 60SCE the ideal choice for players who have just begun playing or are still in the mid-level stage of playing proficiency. It comes equipped with a simple Fishman pre-amp with essential bass and treble knobs. A lot of people mistake Fender to be exclusively an electric guitar manufacturing. The CD 60SCE proves that their acoustics are second to none!
Another model from the Yamaha F series makes it to this list, simply because of a well-rounded combination of features that make it a remarkable instrument. The F310 does not boast of unique features that give it distinction over other guitars on this list. However, its balanced set of features and sound build make it a must have especially for beginners. Its features include: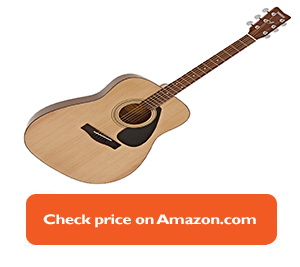 Gloss body finish and Matt Neck
Combination of Tonewoods for body and neck board
Spruce Top
Rosewood Bridge
Dreadnought body style
The F310 enjoys the general consensus among players around the world that it is arguably the best guitar to start your playing lessons with. All the basic features in a quality body that comes at the most reasonable price. If you've got a younger member of the family or a friend who is about to pick his first guitar, you cannot go wrong with the F310.
Takamine guitars are a more premium brand of instruments compared to the more budget-friendly instruments on this list. The GN93CE is no different. Constructed from premium materials and workmanship, this instrument could be a collector's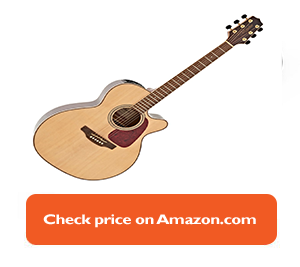 item solely on its high-end built and composition.
Solid Spruce Top
Walnut and Maple wood three-piece back
Mahogany Neck
Laurel Fingerboard
Takamine TK40D Pre-amp
The GN93CE not only sounds good but looks exceptional too. The refined look and fine wood finishing makes it aesthetically pleasing and makes it a great addition to any collection. Takamine's G series has faced some criticisms about its price tag. It's definitely more expensive than most of the other guitars here, but the craft is so good that it's worth the extra dollars. This particular model may not be the best choice for a novice player (unless $1000 is loose change to you, in that case, go for it!). However, for more advanced players who want to know what premium and refinement feels or sounds like, the GN93CE is the icing on the cake!
The NTX1200R is an electro-acoustic classical guitar that blends together the sharp feel of steel strings and the warm tones of nylon strings. It's the ideal option for musicians who want to make the transition from steel-strings to classical guitar. The nut width is also narrower than the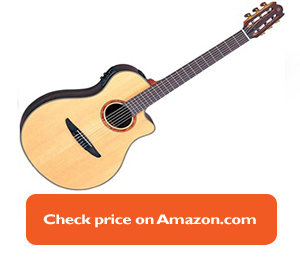 usual classical guitar which makes for a better grip and hand position. Yamaha's craftsmanship is showcased in the NTX1200R with the finesse and detailing with which this instrument is designed.
Solid Sitka Spruce Top
African Mahogany Neck
Solid Rosewood Back ad Sides
Ebony Fingerboard
ART two-way pickup system
The biggest highlight of this guitar is the exceptional electronics that come with it. The ART two-way pickup system captures both the bass frequencies as well as the treble side of the instrument. There are individual volume knobs for both frequencies, as well as a 3-band equalizer to fine tune the sound output when plugged in. It comes with the standard pre-amp tuner too. We'll go to the extent of saying that there's no better electro-acoustic classical guitar in this price range from any brand.
The Gretsch G9200 Round neck Boxcar is the quintessential classic blues instrument. If you've ever been a fan of the old blues numbers, the Gretsch G9200 is one instrument you cannot miss out on playing. It's the instrument that will not only belt out those wailing blues numbers but can also deliver on the funky folk progressions to relive bygone days.
Mahogany body (high-resonance)
Strong mahogany neck
Rosewood fingerboard with 19 frets
Ampli-Sonic cone
25-inch scale length with Spider Bridge
The G9200 has a solid fret structure, with some tine buzz issues. The intonation and tuning can hold out longer than other high-resonance instruments in the same category. The strings can belt out a pretty impressive punch and bite given the size. You'll find that it's much louder than your average resonator guitars. Any blues guitarist worth their money needs to invest in one of these.
Taylor's 200 series continues to garner a wide range of support and following because of their impeccable sound and great looks. The 214 CE DLX, in particular, stands out because of its ability to accommodate a diverse range of playing styles and genres. Whether it is flat-picking or finger style, the Taylor 214 CE DLX gives you the tangy treble as well as the boom factor.
Grand Auditorium Body style (Sunburst finish)
Spruce Top and Rosewood Body
Sapele neck and Ebony fret board
Taylor ES2 Electronics
The 214 CE DLX also sports a Venetian cut away design for ease in playing higher frets, and the edges a softer and rounder, giving that streamlined look. The spruce top is the signature top wood for Taylor guitars, which give off that well-balanced sound in almost any style of playing. The rosewood body comes in three layers and is topped off with a glossy finish. The definitive sound of this guitar can rival the Jumbo or dreadnought's designs from any brand. The Taylor Expression System 2 gives exceptional sound pick up and rounds up all the acoustic sounds even when plugged in.
When it comes to classical Spanish guitars, you can never go wrong with Cordoba. The brand that has generations of lineage in the conventional Spanish guitar industry knows their products better than anyone else. Their guitars come with a blend of traditional craftsmanship with innovative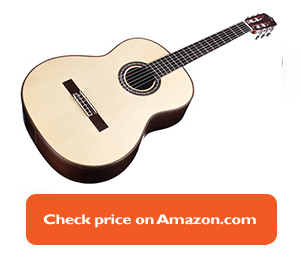 refinements. The C10 nylon string is no exception. It regularly features among the best classical guitars in recent memory.
Solid European Spruce Top
Ebony Fingerboard
Back and sides made of Indian Rosewood
Hand inlaid Rosette
Lacquer finish
The Cordoba C10 is assembled using the Spanish Heel Construction style. This makes each individual wood piece come together with the other parts and vibrate as a single piece. It gives the guitar a sublime sound and tone that puts other nylon strings to shame. The handmade C10s continue to be the irst choice for many established classical guitarists, and if you are foraying into this genre, the C10 has to be your go-to guitar.
The Lindo Widow is a selection from the Graduate Series of guitars by Lindo. It features pretty basic qualities and comes in a pocket-friendly price tag. The reason the LDG 46 Widow is on this list is because of the high playability and low price.
Spruce top and dreadnought Florentine cutaway
Back and sides made of Acacia
A grade Rosewood fret board and bridge
Mahogany neck
Comes with gig bag, Allen key, strap, and extra strings
The Widow can give a combination of warm bass and bright treble notes owing to the Acacia body and Spruce top integrated into the Dreadnought body style. Lindo provides smooth-action pegs in the machine head that are easy to operate and tune. The Florentine cut makes it easier to play riffs in the higher frets. The unique matte black finish and red borders around the body and rosette give it an edgy look that is sure to please youngsters who may just be starting out in their musical journey. The Lindo Widow is basically the safest bet, next to the Yamaha, if you're just not sure which one to go for, and don't want to splurge a lot of money on a mid-level guitar.
Conclusion
So these are the ten best sounding, well-built, value-for-money blues acoustic guitars in the market right now. There's an instrument here for every level of proficiency and every type of player. As we conclude, we'd like to leave you with this piece of advice: Don't sweat it! You're not gambling your life savings on an instrument. You're just making a good investment. Whatever make or model you go for, the sound your guitar makes will eventually depend on your dedication, the passion with which you pursue the skill, and the heart with which you perform when you get on stage (or simply play in your living room).
The guitar is arguably one of the most versatile and accommodative instruments we have. No matter what level of skill or passion you start with, we promise that you can express yourself through this instrument.