Who we are
A young team of tech enthusiasts who all share one interest: cool gadgets. Every day we publish 12 new hand-picked gadgets from the web, we've been doing this for 4 years and we don't plan to stop anytime soon.
Our history
We launched on April 1st 2013 (yes, this is not a joke). Within a few weeks we starter going viral on Pinterest (now we reach 2.4M people every month on Pinterest alone). Back then our website looked pretty basic (read: terrible).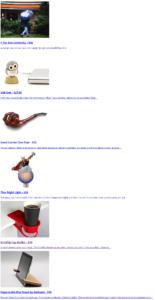 Actually it looked a little bit better than that, but unfortunately we couldn't find any image aside from what's stored on the Wayback Machine. One year later, in 2014, we moved to a better design: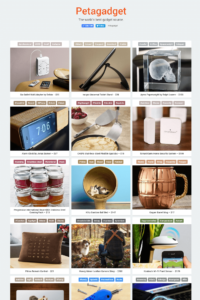 That's when our website really grew. It took us an additional 6 months to get to 10k registered users, and now we have 40k users on Petagadget. In 2017 we completed our 3rd major redesign, which drastically improved the website's speed, user experience, search engine visibility and pretty much every other metric.
Here is our latest growth data:
Registered website users: 40K
Google+ followers: 1.2M
Pinterest monthly reach: 2.4M
Facebook monthly reach: 70K (Yes, Facebook is our worst-performing channel. Follow us to fix this.)
Total number of gadgets on our platform: 18K
Where we're headed
We believe that most of the growth is ahead of us so we're always improving our platform, adding features on a weekly (sometimes daily) basis. In the short term we're going to finally launch the Petagadget blog, where we're going to publish pretty much everything that's not a product listing and we also have plans for a smartphone app (hopefully by the end of 2017). We're also working on a Best In 2017 section where we will publish updated lists of the best products of the year.
How you can support us
We do not take donations so the best way to support us is to follow us on our social media channels (links is header and footer) and if you have a website feel free to link to us. Stay tuned for an infinite supply of cool gadgets!