We bet you have seen hoverboards on almost every kid or at least you have seen videos with these gadgets all over the Internet as they became very popular in the last couple of years, especially for kids, who want to receive them as gifts. If you are not very familiar with these self-balancing scooters this article will definitely put you up to speed.  Like many gadgets, you can buy them in a lot of different sizes, colors and designs. We have also compiled a list of the best hoverboards for kids and adults for the year 2019 – check it out!
Hoverboard name
Pros
Cons
Features
Check price
Skque X1/I Series
Cool design
Easy to use
Ideal for kids
Fast charge
Easy to scratch
UL Certified battery
Improved gyro sensors
Increased durability
Wireless speakers

Check price
TOMOLOO Hoverboard
350 Watts electric power
12 miles travel distance
LED lights
Resistant
Too powerful
Never-flat tires
Great climbing abilities
Smartphone control
Stereo sound

Check price
Megawheels Hoverboard
Detailed instructions manual
Bluetooth speakers
LED lights

Easy to scratch
Enhanced safety
Running distance
Climbing gradient

Check price
AIR RIDE PRO Self-Balancing Hoverboard
Great grip
Accelerator sensors
Suitable for adults

issues with bluetooth speaker
Stability and acceleration sensors
LED lights


Check price
SWAGTRON T1
Speed and range
Upgraded motor
BMS system
Rubber bumpers

Sometimes it vibrates
Smart battery management
LED lights
Check price
Razor Hovertrax 1.0 Hoverboard
Superior stabilization
Long run time
Scratch resistant
Design is a bit edgy
Ever Balance Technology
Anti-slip platforms
Detachable battery
Check price
EnjoybotHoverboard 
Enhanced durability
Increased security
Comfortable
Works best on smoother terrain
Self-balancing system
15 degrees climbing capacity
Check price
VEEKO Hoverboard
Maintaining balance
Increased durability
Long using time

It comes partially charged
Instruction manual is incomplete
350 W dual motors
Can cruise at 6 mph
Check price
Eyourlife Hoverboard
Pavement adaptability
Great performance
Resistant polymer frame
Impressive customer service

Wear flat tennis shoes when riding
LED lights
Ergonomic design
Cruising speed-6.2 mph
Check price
Hoverboards are also really easy to use
 Table of contents
What is a hoverboard
A hoverboard is also known as a self-balancing scooter or a self-balancing board. It is a personal transporter that consists of two motorized wheels that are connected to a pair of articulated pads. On these pads, the riders place their feet and then control the speed of the hoverboard by leaning forward or backward. It can also be controlled by twisting the pads. The hoverboard was invented in its current version back in 2013. This electrically powered self-balancing scooter is inspired by personal mobility devices such as the Segway, but even if their technologies are similar, they are not the same product. There are tons of hoverboards on the market these days, and there are also a lot of advantages and factors that you need to consider before buying such a device.
Benefits of buying a hoverboard
A hoverboard comes with a lot of benefits for both your health and your enjoyment.
For starters, hoverboards are eco-friendly, and they work on a rechargeable battery. This means that they don't use any oil for their operation. These devices of transportation are eco-friendly in two main aspects. They don't emit any poisonous greenhouse gases, and they also protect the atmosphere from getting polluted. You may know that these days there's a rapid depletion of non-renewable sources such as petroleum and in such circumstances, using such a smart device won't consume the resources that are beneficial for the environment and human beings as well.
Hoverboards are also cheap compared to other ways of moving around. For instance, they're obviously less expensive than a car or motorcycle and even compared to a high-quality bike.
Another advantage when you have a hoverboard is that it doesn't require much maintenance. They don't emit harmful gases that result in polluting the atmosphere, so there is no need to have them checked for emissions. Their solid construction and advanced engineering design make these self-balancing electric devices really durable with an extended lifespan. Hoverboards are also handy, and they can be parked anywhere due to their small size. You won't have to build a fancy garage for a hoverboard because you can easily store it inside your home.
Hoverboards are also really easy to use, and you don't have to get specialized training to be able to ride one. All you have to do is just follow the instructions that they come with, and you can start riding a hoverboard almost immediately after purchasing it. They're designed with self-balancing features for a smooth operation and this also means that these devices are appropriate for all ages.
Hoverboards are also convenient and flexible because you can use them for all kinds of things such as going to work, visiting friends and more. You can travel almost anywhere with such a device, and you'll also be able to save on fuel costs and at the same time reduce the carbon footprint.
These devices are unisex meaning that everybody can use them. Their platforms are sturdy, and they come with gyro-controlled self-balancing systems that will never discriminate males from females.
Compared to other personal transporters, hoverboards are fun to ride and reliable, and they don't require a skill of use as we already discussed. Whether you are a novice or an experienced rider, you will definitely have a fun experience both indoors and outdoors.
The best part of using a hoverboard is that it also has significant effects on your health. For instance, it will enhance your eyesight and concentration as well. They can run at a speed of 10 Mph. Whenever you are using a hoverboard, you will need to pay attention to ensure your safety.
Hoverboard riding also increases the rider's balance and reflexes. These devices are run by aerospace attitude control theory, a gyroscope system, and a software algorithm. You will always have to move backward and forward to operate the device's acceleration, brakes, and deceleration.
Riding a hoverboard provides an effective exercise for your body. It can prevent humpbacks because the rider always needs to maintain his back straight while riding the hoverboard. Other parts of the body that get fully exercised include the ridge, shoulders, limbs, legs, and wrists as well. The continuous muscle movement will help you develop stronger brain health as well.
And last but not least, riding a hoverboard is an extremely efficient and fun way to burn calories. Riding such a device for at least 30 minutes a day can help you burn 285 calories. Overall, investing in a high-quality hoverboard will turn out to be beneficial for your health and the environment as well.
Factors to consider before buying a hoverboard for kids/adults
Weight requirements are essential in a hoverboard, and it's important to note that both kids and adults can use these devices. You will see a lot of weight requirements in the lower range and these are definitely for kids. There are also models that support adult riders as well. It's recommended that you try and remain about 10% underneath the weight requirement just to make sure that you keep everything safe. The higher the capacity and the less it's utilized, the more you will be able to get maximum speed and battery life from the hoverboard. If there's less strain on the device, you will obtain better rides and a more extended lifespan.
Speed is another important factor because, on a hoverboard, higher speed means a higher level of fun. On the other hand, in some locations, there are some speed restrictions. For instance, back in 2015, there was a significant debate in New York City where hoverboards were considered illegal to be driven down the streets or outside. The hoverboard-related laws are constantly changing, and they often involve the device's speed. That's why is important to find out what are the laws regarding the use of hoverboards in your locations and stick with their requirements.
Age requirements are also essential because a hoverboard is a high-powered device and you can't really look at it like a child's toy. In most cases, it's recommended that you only allow kids over 12 years old to use such a device.
The self-balancing feature is a very important aspect of your new hoverboard especially if you are purchasing it as a gift for your kids. One of the most significant concerns regarding hoverboards from their beginning was safety, because kids kept falling off it. Today, things are a bit different because most hoverboards come with a self-balance feature installed. This is an important safety feature, and it's an essential requirement for your kids to stay safe.
The most important aspect of a hoverboard is the safety. Whether the hoverboard will be used by a child or an adult, you should always consider how safe it is before you use it. You should pay attention to consumer reviews of specific hoverboards just to see if users encountered any issues with the devices.
One of the primary safety hazards that it's best to be aware of when it comes to hoverboards is the battery system. Most modern electronics use a battery technology called lithium-polymer or simply "lipo".  Lipo batteries are the best overall batteries for consumer products. You have to make sure that you don't get counterfeit batteries because these are usually to blame when a device explodes, for instance. You have to make sure when you're buying a hoverboard that it comes with the proper safety certification. The device should come with a UL certification and preferably with protection systems that can prevent overheating, overcharging, and short-circuiting.
Charging time is also essential, and it's best to get a hoverboard that comes with a battery system that charges up quickly.
Warranty information is another crucial aspect to consider before purchasing a hoverboard. It's pretty clear that you want to buy a hoverboard because you intend to use it as much as possible. It's essential to note that extended use of a device also means an extended possibility of something going wrong with it. There can be parts that malfunction or there can only be wear and tear issues. It's recommended that you research warranty information on the hoverboard that you plan on buying. You can do this by getting info on Amazon or by studying the manufacturer or visiting their website to get an extensive look at what a specific brand has to offer.
Lights are also an essential feature in hoverboards and riding such a device can also be done after work hours. If you are getting home when the streetlights are already on, it's recommended to flick on your hoverboard's light as well. You should consider your schedule and how strong the light feature on your hoverboard should be, based on your needs.
The wheel size and type are also essential in hoverboards, and most devices come with wheels that are just over six inches, and this will put you pretty close to the ground. Hoverboards are really notorious for picking up scrapes and scratches. They are not great on anything but very smooth terrain. Getting a hoverboard that comes with eight or ten-inch wheels will be able to resolve the issue. You also have to consider the terrain you are planning on riding your hoverboard on. If you will be going indoors, ten-inch wheels might be a problem if there are low doors or lights in the location. You can also choose between solid or pneumatic wheels. Solid wheels won't ever go flat, and this is an advantage. On the other hand, they are able to provide less shock absorption, and they don't do well on rough surfaces. The solid wheels' grip is also compromised because they don't conform to the surface they are moving on.
Build quality is a factor that's worth considering when you're buying a hoverboard. The frame, the housing material, the metal versus plastic wheels- these are all essential aspects. It's recommended that you avoid foreign sellers because US-based brands are usually providing higher-quality products.
Portability is an important issue, and it's wise to check how much your hoverboard weighs. Most hoverboards weigh over 20 pounds, and other models weigh more than 30 pounds.
Tips for choosing the best hoverboard for your kid or for yourself
Don't buy a hoverboard for children younger than 12 years old.

Check out as many customer reviews as you can to see comments on the build quality.

Consider U.S.-based brands first that come with both customer support and warranties.

Note that hoverboards can take up to a few hours to charge and that means that you'll have to be patient while the device is charging.

Choose a device that goes anywhere from 2 to 10 mph and the ones that have a range of 10 to 15 miles.

Don't expect to climb steep hills on your hoverboard.

Try not to spend more than $600 on a hoverboard unless you plan on taking hoverboard riding as a sport.

Always remember to check the local laws about riding hoverboards.

Beware of knockoffs that are trying to pass themselves as great brands.

Don't purchase a hoverboard that doesn't include a return policy.

Make sure to check out the safety features before you buy the hoverboard.
Hoverboards F.A.Q.
Q: What is the heart system of a hoverboard?
A: The wheels are the most important part of a hoverboard, and they contain the electric motors and sensors for speed and tilt.
Q: What's in the main body of a hoverboard?
A: The hoverboard's body houses the gyroscope and the speed control boards. When you accelerate or tilt, this info is picked up by the sensors in the wheels, received by the control boards and sent to the main logic board – the hoverboard's brain.
Q: How can you steer the device?
A: Hoverboards are designed to allow riders to use their body weight intuitively to steer the device. You can turn, spin in circles, and also move forward or backward.
Q: How can a hoverboard self-balance?
A: Hoverboards can self-balance via the tilt sensors relaying pressure information to the gyroscopes. The information is sent to the logic board by the gyroscopes. The pressure pads and the switches of the tilt sensors work together.
Q: How fast can a hoverboard go?
A: this depends on each model, so you have to check out this feature for the hoverboard that you plan on buying. You also have to check the laws regarding the use of hoverboards in your location because they usually involve speed requirements.
Q: What is the minimum age required to use a hoverboard?
A: The minimum rider age is usually 12 years old and kids between 12 and 15 years old should be supervised by an adult while they are riding a hoverboard.
Q: Why did my hoverboard's battery blow up?
A: This is less likely to happen if you purchase high-quality original batteries. Only low-quality batteries will trigger the risk of blowing up while you're riding your hoverboard.
Q: How hard is learning to ride a hoverboard?
A: Learning to ride a hoverboard is really effortless and getting the hang of how to maneuver it will take about 10 to 15 minutes.
Q: How can I re-calibrate my hoverboard?
A: Usually this depends on the device, but most times this is done by pressing and holding the power button for a few seconds until the display light flashes.
Q: Can I use the hoverboard off road?
A: Hoverboards are designed for use in urban areas or smooth and dry surfaces. They can also work on flat and dry grass patches as well. It's not recommended to use the hoverboard off road. Most manufacturers also recommend staying clear of damp and watery areas because these may damage your hoverboard.
Best hoverboards of 2019
Features
It includes UL Certified battery safety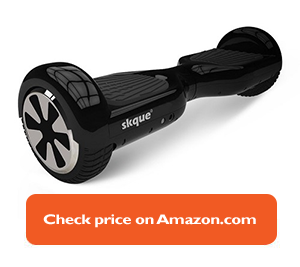 The Skque X1/I Series – UL2272 comes with all necessary UL safety regulations and this means that your hoverboard will be 100% safe for use for both you and your family.
Improved motherboard with tuned gyro sensors
The hoverboard includes an enhanced motherboard with professionally tuned gyro sensors that will provide you the smoothest ride.
Increased durability
The strong shells and the enhanced chassis offer this product a high durability.
Built-in wireless speakers
The hoverboard comes with a built-in Bluetooth speaker that allows you to link your board to your smartphone. You'll be able to cruise while listening to your favorite music.
Ride at night
You'll be able to ride during the nighttime because the hoverboard comes with bright LED lights.
Two driver motors
Skque X1/I Series – UL2272 comes with two driver motors within the wheels that can be controlled with your feet for easier rotations, turns, acceleration and breaking as well.
Pros
What to like:
The hoverboard provides fun times for recreation at home, at work and other environments.

It comes with a really creative design.

It has a smart balancing wheel.

The Skque X1/I Series – UL2272 includes a manual of detailed instructions.

It comes with a manual wall charger.

You just have to press the power switch to turn on the self-balancing electric scooter.

The hoverboard is ideal for kids.

It charges quickly, and the battery will last for a long time.
Cons
What to consider:
If your kid rides this hoverboard on rougher terrain, it will get a few scratches, but the good thing is that the pain will not chip because of these.
Features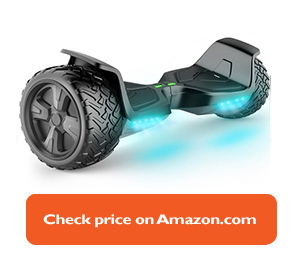 It includes the UL 2272 Safety Certification
The hoverboard comes with a double protection; it includes the UL 2272 safety certification and also the fire-retardance
shell. This means that the battery will not become overheated and you will definitely have a safe and excellent riding experience.
Never-flat tires
The 8.5 inches Big Wheels with sturdy road-holding tires are really durable, and these will provide the smoothest rides.
Charging port with waterproof features
The charging port includes a waterproof cap that will protect it really god.
Great climbing abilities
The hoverboard allows you to climb at inclines up to 30 degrees and this provides impressive climbing abilities.
Innovatory APP control design
You will be able to customize the device's colors, mode, and brightness as well of the RGB lights. You can also customize the speed, mode, sensitivity.
Smartphone control
The hoverboard allows you to set the auto shut down time and power on/off via your smartphone.
Stereo surround sound
The hoverboard includes the new Bluetooth 4.1 speaker technology that provides a stereo surround sound, and this will make the rides more enjoyable.
Pros
What to like:
The hoverboard offers 350 Watts electric power.

You can get a maximum speed of 12 mph, and the maximum travel distance is up to 12 miles.

The LED lights will come in handy during the night.

The hoverboard comes with amazing sensitivity.

The quick response break works flawlessly.

It's good for training your balance abilities.

It comes with charged batteries.

The hoverboard is really sturdy.

The additional app makes the boarding experience both fun and safe.
Cons
What to consider:
The listed capacity may seem a little high, and this means that you just have to try it out first just to make sure that it is suitable.
Features
Enhanced safety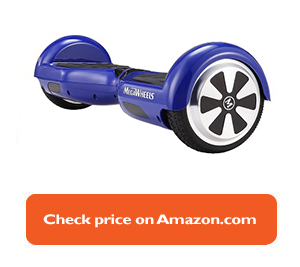 The batteries and the charger and protected from overcharging and over-discharging. They are also fire-resistant and explosion-resistant, splashing-resistant. The hoverboard also comes with non-slip pedals. If there are any troubles with the device, the local maintenance service will deal with any issue in the most efficient manner.
Powerful rides
The hoverboard comes with smooth breaking and powerful 250 Watts electric motors. You'll be able to use the breaks without any problems to manage the speed downhill effortlessly. You can accelerate to reach amazing top speeds, and all this will happen while
you maintain perfect control.
Running distance
The will be able to ride about 10 miles when you use it fully charged. You'll be able to ride it fully charged for about three hours.
Climbing gradient
The hoverboard comes with 6.5-inch dual tires, and the 15-degree climbing gradient is ideal for most terrains.
Max load capacity
The maximum load capacity is 242 lbs.
Pros
What to like:
It comes with a charging cord.

The hoverboard also includes a details manual of instructions that will make it really easy to learn how to use the device.

You will be able to ride the hoverboard very smoothly.

It's great that it includes built-in Bluetooth speakers.

You can also use it during the night due to its LED lights.

The hoverboard also includes a carry bag that will be useful for carrying it around and for increased protection while it's being stored.

This device is UL 2272 certified for increased safety.

It's ideal for both children and beginners.

It performs decently in terms of speed.

The battery has a long-lasting life.
Cons
What to consider:
If you use the hoverboard on rougher terrain, it may scratch and dent pretty easy, so the best way to avoid this is to use it on flat ground without any irregularities.
Features
No keys required
The AIR RIDE PRO Self-Balancing Hoverboard is a sleek personal tra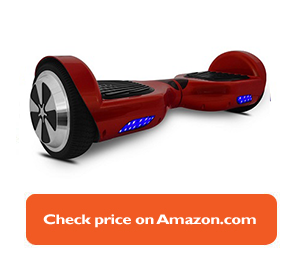 nsportation device that you can simply step onto, and it does not need any keys. All you have to do is get up on it and glide.
Increased stability and acceleration sensors
You can go forward, backward, you can spin and balance in place, and with the device's built-in gyroscope for enhanced stability and acceleration sensors for moving, this electric scooter will allow you to perform some really nice tricks.
Great grip
The deeply grooved rubber footpads will provide you an excellent grip, and the wide tires will complement the gyroscope for enhanced balance. The aluminum wheel casings and the bright LEDs offer the hoverboard some eye-catching features.
Built-in safety features
The hoverboard comes with UL 2272 certification, and this means that it makes sure to meet the highest electrical safety standards.
Accelerator sensors
The accelerator sensors will be able to keep your speed to a manageable 7.5 mph, and this means that you don't have to be afraid that you will run out of control while you are on this hoverboard.
Heavy duty fun
The motors that are housed in each one of the wheels will transport you up to 12 miles on just one charge. You will have about 90 minutes of continuous riding after a full charge.
Pros
What to like:
It supports up to 220 lbs, and this means that the device is also suitable for adults.

The hoverboard is conforming to stringent safety certifications.

It allows you to glide and ride with high confidence.

The gyroscope keeps the hoverboard balanced.

The smooth and powerful motors together with the rubber tires will provide you effortless control.
Cons
What to consider:
The hoverboard would use a Bluetooth speaker, but until this is resolved, it provides really great and safe features to have fun with.
Features
Speed and range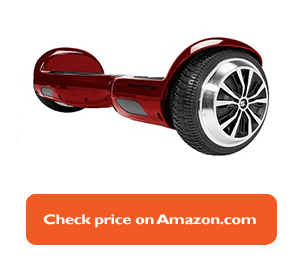 You can ride this SWAGTRON T1 – UL 2272 Certified Hoverboard at an 8 mph top speed and 7 to 12-mile range.
Targeted at both kids and adults
The accepted weight is up to 220 lbs, and this means that the hoverboard can be used by both adults and kids as well.
UL 2272 certified
The SWAGTRON T1 – UL 2272 Certified Hoverboard comes with a UL 2272 certification, and this means that it meets all electrical safety features.
Smart battery management
The patented SWAGTRON SentryShield smart battery management system provides a multi-layered hover skateboard protection.
Upgraded motor
The SWAGTRON T1 – UL 2272 Certified Hoverboard comes with an upgraded 250 Watt motor and gear stabilization for enhanced control and downhill traction.
BMS system
The BMS system monitors and protects against overvoltage, overheating, overcharging and overcurrent.
Safe Stop Technology
You can now ride assured thanks to the hoverboard's Safe Stop Technology that can guide you to a balanced rolling stop if you suddenly lose power.
Pros
What to like:
It includes LED lights for safely riding it in the nighttime as well.

The battery indicators come in handy because they'll show you how long you have before the battery runs out.

The rubber bumpers are great for increased protection of the SWAGTRON T1 – UL 2272 Certified Hoverboard.

The charging time is about an hour which is considerably less compared to other models.

The battery is UL certified, and it managed to pass a 10-ton crush test.

It is effortless to learn how to ride the device thanks to the details manual of instructions.
Cons
What to consider:
At times, the whole hoverboard seems to vibrate, but this probably happened due to high speeds and rough terrain.
Features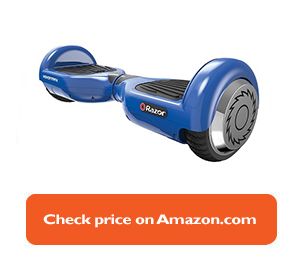 Increased safety
Razor Hovertrax is UL 2272 certifies, and this ensures that it meets all of the industry's highest electrical safety
standards.
Ever Balance Technology
This technology will keep the hoverboard balanced even if you are not mounted on it. This will make it much easier to transition on and off it, and it will also minimize the risk of damaging the device. It also reduces the chances of you falling off the hoverboard.
Superior stabilization
The hoverboard will react to every one of your moves to offer the rider excellent stabilization.
High resistance and easy maneuvering
The frame is made of shatter-resistant polymer, and the hoverboard comes with silent dual hub motors with gyro sensor technology that provides excellent balance. The steering is foot-controlled, and the Razor Hovertrax will provide seamless rider maneuvering.
Anti-slip foot platforms
The wheels are made of rubber and aluminum hubs, and the foot platforms come with anti-slip features.
Long run time
You can achieve up to 115 minutes of continuous use after you charge the hoverboard completely,
Pros
What to like:
Razor is a worldwide brand, and it provides qualities that ensure fantastic safety features.

The hoverboard is scratch resistant, and it was made with high-quality plastics with a shatter resistant polymer for increased durability.

The Razor Hovertrax is really quiet, and it operates in silence.

The EverBalance Technology makes it easy to get on and off the hoverboard because it will balance itself out even if there is no pressure on the gyros.

The detachable battery lets you ride as long as you want to.

This is one of the safest choices for concerned parents.
Cons
What to consider:
The design might be a bit edgy for some kids' taste, but then again, this is a matter of preferences only.
Features
Increased security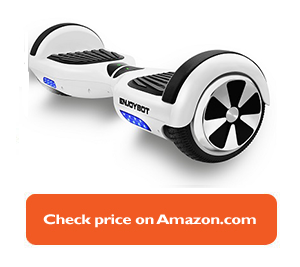 The CSA /UL 2272 Certified Enjoybot F1 Self -Balancing board with UL2272 certified battery and charger provides the industry's highest electrical safety standards, and the device is 100% safe for you and your family.
Noiseless surging power
It comes with a 220W brushless DC silent motor that provides this hoverboard power to maintain 7 to 9 miles range. You can achieve a cruise speed of 8 mph, and you can also easily climb slopes and maneuver the device quickly.  
Enhanced durability
The hoverboard is made from string aircraft-grade ABS fireproof material and aluminum alloy frame, therefore enabling  it to handle heavy loads.
Comfortable riding experience
The 6.5-inch rubber tires provide a pleasant riding experience and also a safe ride together with fantastic performance.
Innovative self-balancing technology
The device is built with a balanced technology that will automatically provide an incredibly smooth ride. You will be able to go forward, backward, spin and so on. Dynamic equilibrium powers every motion, and this allows you to control the device easily.
Pros
What to like:
The hoverboard comes with a really detailed manual of instructions.

This hoverboard is steady to ride both indoors and outdoors.

The innovative, intelligent self-balancing system helps you ride the hoverboard easily.

It is also easy to carry and store.

The maximum load is 220 lbs, and this means that it's appropriate for adults as well.

The climbing capacity is 15 degrees.
Cons
What to consider:
The hoverboard works best on smoother terrains rather than on rougher areas.
Features
Safety guaranteed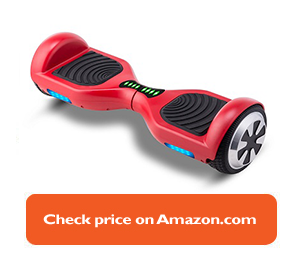 This UL 2272/2271 certified self-balancing hoverboard comes with all the safety requirements, and it features overheat protection, protection for low batteries, low weight, speeding, and also slope protection for increased security.
Convenient mobile device
The hoverboard comes with a compact size, and it's lightweight allowing you to travel easily.
Maintaining balance
The VEEKO Hoverboard comes with a professional gyroscope that will maintain the device's balance. The acceleration sensor and the servo-control system will also help with keeping the right balance.
Increased durability
The device can climb slopes up to 15 degrees, and the aluminum alloy rims offer enhanced durability for the shock-absorbing, non-skid tires. The device is built using ABS for durability.
Long using time
The VEEKO Hoverboard comes with a battery that can keep working for at least 2 and a half hours.
Pros
What to like:
The VEEKO Hoverboard is both fun and easy to use.

You just have to stand on it, and you can cruise at 6 mph to get to the desired destination.

It comes with powerful 350 W dual motors.

It can hold weighs up to 230 lbs without any problems.

The device is fully compatible with UL safety regulations, and you will be able to use it without concerns.
Cons
What to consider:
The instructions book could provide a more detailed list of instructions, but if you go online, you'll find everything you need to know about this particular hoverboard and how to use it. The hoverboard came only partially charged, but it takes only 30 minutes to charge the rest.
Features
Safety guaranteed
The electrical systems and the charger along with the batteries of this hoverboard have been certified by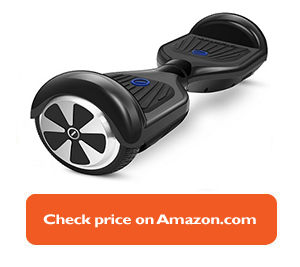 UL 2272, UL 991 and ANSI/UL 1998. The hoverboard comes with battery power-off protection and also temperature control system enhance safety. The LED lights will make it easier to ride during the nighttime.
Smooth ride performance
The hoverboard comes with an ergonomic design and non-skid footpad. This means that your feet will have a solid grip on the board allowing you to glide through corners having full control effortlessly. The motherboard comes with tuned gyro sensors for offering you the most fantastic ride.
Pavement adaptability
The Eyourlife Smart-C can climb over ramps of 15 degrees, and it also works excellent on gravel, obstacles, slopes and ceramic tiles. You can also use it on rainy days.
Great performance
The cruising speed is up to 6.2 mph with a run time of around 120 minutes of continuous use for riders that are up to 220 lbs.
Pros
What to like:
All the hoverboard's systems are completely safe.

You'll get the desired performance and maneuverability you need from a high-quality hoverboard.

The shatter-resistant polymer frame will make sure the device has an extended lifespan.

You can also efficiently use it during the nighttime.

The manufacturer provides impressive customer service.
Cons
What to consider:
It's recommended that you wear flat tennis shoes because with boots you might not be able to control the hoverboard flawlessly.
Top recommendation
After thoroughly testing all these hoverboards we would definitely recommend the Skque X1/I Series – UL2272 (MAX 264 lbs) Self Balancing Scooter / Hoverboard, due to its sleek looks and the amazing pack of features that come with it. The hoverboard includes all the necessary safety features, and its motherboard is improved with professionally tuned gyro sensors that will provide the smoothest ride. The Skque X1/I Series also comes with enhanced durability, a wireless Bluetooth speaker and night features, consequently making it your best choice for improved performance, safety, and fun and consequently the best hoverboard for kids and adults