If you're an outdoor person you probably love biking, hiking, camping, hunting, or any combination of them. Whatever it is that you do outside, you should be doing it with a tactical backpack. The Best tactical backpacks aren't like regular backpacks and they are designed specially to withstand the elements. However, there are so many different ones on the market it can be nearly impossible to settle on one. That's why we've compiled 10 of the best ones on the market for your consideration, as well as all the information you need before making your purchase. In the Best Tactical Backpacks For 2019 – Buying Guide we will present the best tactical backpacks available on the market today and tips and tricks to help you choose the most suited backpack for you.
Backpack name
Backpack capacity
Main Compartment Dimensions
Features
Check price
Maxpedition Kodiak Gearslinger
22.6 L
18.5"x 11"x 4"
Single Strap Construction
Anti-Theft Zipper Capture System
PALS Webbing
Check price
Condor 3 Day Assault Pack
50 L
22" x 13" x 8"
External Compression Straps
Body Contour Shoulder Straps
Carry and Drag Handle
Check price
Maxpedition Falcon-II Backpack
23 L
18" x 9" x 4"
Triple Polyurethane Coated
Accordion Design
Concealed Carry Pocket
Check price
3V Gear Velox II Large Tactical Assault Backpack
27 L
18" x 12" x 4.5"
Large Heavy Duty Zippers
Built in Organizer
Compression Straps
Check price
5.11 Tactical RUSH72 Backpack
55 L
23" x 13.5" x 8.5"
Ventilated Back Padding
Self-Healing Zippers
Drainage Grommet
Check price
Smith and Wesson Lite Force Tactical Pack
16 L
18.6" x 14.1" x 2.2"
MOLLE Loops
Conceal Carry Compatible
Versatile
Check price
Condor Venture Pack
27.5 L
12" x 20" x 7"
Laptop Sleeve
Grommets
Detachable Waist Belt
Check price
Explorer Tactical Gun Concealment Backpack
56 L
20" x 11.5" x 11"
Conceal & Carry Compatible
MOLLE System Webbing
10 Pockets
Check price
Direct Action Dragon Egg Tactical Backpack
25 L
19" x 10.6" x 7"
MOLLE/PALS Webbing System
Heavy Duty Zippers
Padded Sleeve
Check price
MOLLE II Rucksack Backpack
82 L
21.1" x 15.2" x 6.2"
Polymer Gen-iv Frame
Removable Pouches
Top & Bottom Access
Check price
Benefits of Buying a Tactical Backpack
Durability
Tactical backpacks were initially intended for military use, so they've got to be really durable. They're designed to be able to go with you anywhere, in any condition, even extreme cold and heat. This is one of the main reasons survivalists choose to use tactical bags. They are made from heavy duty material, usually some kind of super strong nylon. A tough body material and a good, sturdy frame will ensure that your tactical backpack can take a beating.
Storage Space
Another huge advantage of tactical backpacks is that they have more storage space than regular backpacks, this allows you to pack all the materials you need for your outing. The overall capacity of tactical backpacks is measured in liters, so that is how we will measure the capacity of all our backpacks.
The storage aspect of tactical backpacks is twofold. Not only is there more storage room, but there are also usually several compartments as well. This makes it easy to access exactly what you need, when you need it. Regular backpacks tend to only have 1 or 2 large compartments, so you have to cram everything into those two pockets and then dig through them every time you need something.
Bells and Whistles
Tactical backpacks can be a treasure trove of features. They all have different bells and whistles, like hydration packs, Velcro or button closures, loops, pockets, and other small features that can add to the overall quality of the bag. Although, the bells and whistles are not always what you wanted them to be, but with tactical backpacks that's fine. Most all tactical backpacks have some kind of webbing on them that you can add additional items too. If your backpack doesn't come with all the little things you wanted, always feel free to add them yourself.
Factors to Consider Before Buying a Tactical Backpack
Budget
Tactical backpacks do not tend to be super expensive, but the higher end ones will usually cost you more. Before you buy a tactical backpack, you should think about what your budget is and if it is a hard budget. Sticking to a budget can be really hard, especially once you see something you really want that's beyond your budget. That is why we would recommend fluffing your own budget. Instead of saying you have a hard budget of $150, you can have a $100 budget, and plenty of wiggle room. You can certainly find a good backpack on almost any budget, but if you have a little wiggle room in your budget, it's even better because you can look for one of the best tactical backpacks for your needs without feeling too constrained.
Material
The material is one of the most important parts of a tactical backpack. A good tactical backpack will be made out of a durable material, like nylon or canvas, depending on the bag. You will also want to consider what you will be using the bag for when trying to determine the best material. If you know you're backpack will be getting wet, you'll want to find a backpack made with waterproof materials. Tactical backpacks aren't all about the fabric though, you'll want to consider the material of everything, including your zippers and other hardware. The zippers and other hardware must be durable so that they don't rust, or weather away.
Support
Lastly, you will want to consider how to backpack attaches to you and the support it provides. All of the backpacks will at least have shoulder straps, but others may also have a sternum strap or waist strap, or both. A good backpack will also have good back support, which will be a life saver when you are carrying all of your equipment on your back for miles. Without good support, you are basically just carrying a sack. Generally speaking, the better support you have, the easier it is to carry the backpack. The ideal backpack feels almost weightless when it is fitted correctly.
Tips for Choosing the Best Tactical Backpacks for Your Needs
If you want to make a purchase you won't regret, we suggest doing plenty of research beforehand. If you have never bought a tactical backpack before you simply don't know enough to make an informed decision. Researching can also help you narrow it down to a few backpacks, by looking at reviews and features. Even if you are an avid outdoors person and have bought tactical backpacks before, research is still a good idea. There is always new stuff to learn, and at the very least you will be able to narrow down your options.
Secondly, we suggest you take a thorough look at your needs and make a list, whether it is physical or mental, to take along with you when you're shopping. Any bag worth considering will meet all, or very close to all, of your needs. By knowing exactly what you need you are less likely to get overwhelmed and make a random impulse purchase that you regret later. Knowing your needs can also come in handy if you need to ask a professional for help. If you can't find what you are looking for, or you still don't know what backpack you want, telling a professional your needs can help them guide you to the right backpack for you.
And lastly, when you're shopping for a tactical backpack, choose one that appeals to you aesthetically. You'll be taking this bag with you everywhere, so it's important you actually like it. As far as patterns go, there isn't much variety to tactical backpacks, but there is some. The same bag will usually come in a couple of different colors so that you can choose which one you like best. They also all have a different overall appearance that you have to take into effect. Some bags will have more rings coming off, or more straps attached, or just one shoulder strap, and it is up to you to decide which one you like best. Some of them are a bit too drab for my taste, but they may be perfect for someone else.
Maxpedition Kodiak Gearslinger
Top Features/ Specs
Capacity: 22.6 L
Materials:1000-Denier water and abrasion resistant light-weight ballistic nylon fabric,

High tensile strength nylon webbing,
High tensile strength composite nylon thread,
Paracord zipper pulls,
#AS-100 high grade closed cell foam padding, and
Teflon fabric protector

Main Compartment Dimensions: 18.5"x 11"x 4"
Water Capacity: 3 L
Colors Available: Black, khaki, and khaki foliage
Single Strap Construction
The Gearslinger has only one strap, but this isn't a bad thing. The ergonomic fixed strap on the Gearslinger lets you have direct access to practically everything in your bag. The strap rotates 270 degrees, bringing the bag to the front of your body, where everything is right at your fingertips.
Anti-Theft Zipper Capture System
This one doesn't take a whole lot of explaining. The anti-theft system prevents your bag from getting stolen, which makes camping easier. Believe me; it's easier to sleep when you aren't worried about all of your possessions being stolen. We don't totally understand how it works, but it does, and it is something that is unique to this bag.
Padding
This bag features plenty of padding, which adds to the overall comfort of this bag. We really love the padding that is in this backpack, and frankly, wouldn't mind if there was even more. The padding is lightweight and breathable, but strong enough to give you some support.
PALS Webbing
There is also plenty of PALS webbing all over this bag. The PALS, or Pouch Attachment Ladder System, webbing allows you to attach things to your bag, such as radio pouches and other gear. On this bag, there are several rows PALS webbing on the front, exterior right side, the strap, and even more webbing on the waist pad.
Pros
Another thing we really like about this bag is the D ring, located on the right side. This makes it easy to attach even more stuff to your bag, and it is made from heavy duty material that is sure to last just as long as the rest of your bag making it one of the best tactical backpacks available today.
Downsides
The only downside of this backpack is that it is one of the more expensive ones on this list. We wouldn't call the price of this one exorbitant, but there is a chance that it goes over your budget. But, on the bright side, it's worth every penny it costs, and you are likely to be able to get a good deal on it online, so this isn't a huge downside.
Condor 3 Day Assault Pack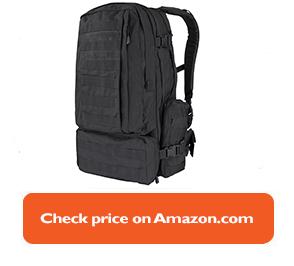 Top Features/ Specs
Capacity: 50 L
Material: 1,000-Denier water and wear resistant nylon
Main Compartment Dimensions: 22″ x 13″ x 8″
Water Capacity: 6 L
Colors Available: MultiCam, Olive Drab, Black, and Coyote Brown
External Compression Straps
The external compression straps running along this bag give you a great place to attach some additional gear that won't fit in your bag, like a sleeping bag. The straps are also good for compressing your payload, making it easier to carry and stay balanced.
Body Contour Shoulder Straps
When you're going on any kind of outdoors trek, it's always a good idea to have a bag that is actually comfortable and that you'll be able to carry for a long time. In this bag, the contoured shoulder straps minimize the discomfort that you would otherwise feel.
Carry and Drag Handle
Although it is often overlooked, the carry and drag handle on the Condor 3 Day Assault Pack gives you versatility in how you carry it. The handle is heavy duty enough that you can carry or drag it, which might be necessary depending on the circumstances.
Pros
The Condor 3 Day Assault Pack is one of the most spacious tactical backpacks on this list. This makes it great for, as the name suggests, outings that last three days. This could mean a solo weekend trip, or mountain climbing with friends. Either way, it's pretty amazing that everything you need to survive can fit in or on this bag and it's still comfortable.
Downsides
Since this bag has such a large capacity, it is also physically bigger than most of the other bags on this list. Unfortunately, this bag doesn't work great on every body type, particularly shorter people since the bag will hang so much lower. However, this doesn't take away from the quality or performance of the bag.
Maxpedition Falcon-II Backpack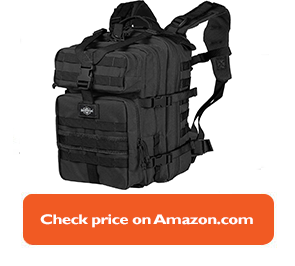 Top Features/ Specs
Capacity: 23 L
Materials:

1050-Denier water and abrasion resistant light-weight ballistic nylon fabric
High tensile strength nylon
#AS-100 high grade closed cell foam padding

Main Compartment Dimensions: 18" x 9" x 4"
Water Capacity: 3 L
Colors Available: Black, foliage green, khaki, khaki-foliage green, and wolf gray
Triple Polyurethane Coated
The Maxpedition Falcon-II is coated, three times, in polyurethane, to make it water resistant. Of course, this doesn't mean you can submerge it in water for a long period of time and expect it to keep the contents dry; it isn't waterproof. But, it will make it, so rain doesn't cause all of your gear to get soaking wet.
Accordion Design
The unique accordion design of this bag makes it easy to store when you are not using it. When it is empty, you can collapse it in on itself, just like an accordion. With this bag, you'll never have to worry about where you'll store it when you're not using it, because you can store it almost anywhere. I was surprised to see that this was the only backpack with a collapsible, accordion design, we can't think of an easier way to store one.
Concealed Carry Pocket
This backpack also has a discreetly concealed carry pocket so that you can carry knives and guns in a safe location. This particular pocket can fit large pistols or a medium sized knife, both of which are commonly used for hunting.
Pros
Like others, this backpack features several rows of attachment straps. This allows you to attach things onto your bag that you might need, maybe even additional pockets. We love this because it gives you a lot of control over how your bag looks and exactly where everything is.
Downsides
A lot of tactical backpacks are "hydration ready", or "hydration bladder compatible", that means they have a pocket for your water, just not a built-in reservoir, so to speak. This is one of those bags, there is no built-in hydration bladder, but there is a compartment that can hold a 3 L bottle of water.
3V Gear Velox II Large Tactical Assault Backpack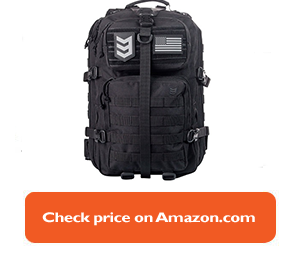 Top Features/ Specs
Capacity: 27 L
Material: 600 D PVC Backed Nylon
Main Compartment Dimensions: 18" x 12" x 4.5"
Water Capacity: 3 L
Colors Available: Black, olive drab, coyote, and foliage grey
Large Heavy Duty Zippers
As I mentioned earlier, it is important that every part of the backpack is durable, even the zippers. The Velox II features heavy duty nylon zippers, which are rust resistant, and also very quiet. Instead of spooking every creature around you, the zipper pulls are threaded with Para cord, which reduces noise and adds to the overall durability.
Built in Organizer
A lot of tactical backpacks are also used by students, they are heavy duty and high school's a jungle, right? Anyway, the built in organizer on this backpack makes it super easy to keep all of your survival tools, or school supplies, organized neatly.
Compression Straps
And lastly, the compression straps on this backpack help compact the backpack down. The straps, running along the outside of the bag, are meant to keep the weight near your core and easier to work with. They can also be used to attach more stuff to the bag, by pinning it underneath the compression straps.
Pros
When you buy this bag, you're pretty much guaranteed to have a great tactical backpack for life, since this bag comes with a lifetime warranty from the manufacturer. We love warranties and if a product has a good warranty, we are automatically more likely to buy it. Buying something with a good warranty is virtually risk-free, so you never have to worry about what to do if something breaks.
Downsides
Like others, this bag is water resistant, not waterproof. It does protect against a lot of water, but it has its limits. But hey, with a lifetime warranty, a little water is nothing to sweat over. There are so many other great features to this bag that this little hiccup pales in comparison.
5.11 Tactical RUSH72 Backpack

Top Features/ Specs
Capacity: 55 L
Material: high strength, water-repellant 1050D nylon
Main Compartment Dimensions: 23" x 13.5" x 8.5"
Water Capacity: 3 L
Colors Available: Black, dark earth, double tap, multi cam, OD, sandstone, storm
Ventilated Back Padding
If you're going to be carrying a big backpack on your back, it might as well be comfortable. This bag features ventilated back padding, which makes the bag more
breathable, adding to your comfort.
Self-Healing Zippers
This backpack features self healing zipper technology, which makes it super durable. There are two zippers on the front and main compartments, all of which have molded grip pulls. The molded grip pulls are large enough that you don't have to fumble with them, making it easy to get into the backpack.
Drainage Grommet
Lastly, this bag has an incorporated drainage grommet on it, which helps with drainage. Basically, instead of the water being able to soak up in your bag, it drains off so that you are not weighed down and you can keep going. The drainage grommet also protects all of your possessions from getting soaked.
Pros
This is an overall great bag; it has a very large capacity, and is extremely comfortable. Bags with capacities like this one can be used for trips that are 2 or 3 days long, perfect for a weekend getaway. Sure, it's likely to still be heavy, but without the padding it would be a nightmare to use. The padding almost literally lifts the weight off your shoulders, so you are able to enjoy your trip. We couldn't imagine backpacking anywhere without great support from my backpack, and we can tell this one has it.
Downsides
The Rush72 is a big bag, and it takes a lot of high-quality materials to make it, which is why it is one of the more expensive bags in this roundup. However, you are still getting a great deal considering how spacious this bag is. When you buy this bag, you are definitely paying for quality, but it is quality that you can trust.
Smith and Wesson Lite Force Tactical Pack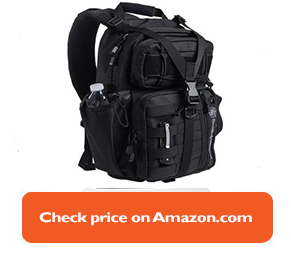 Top Features/ Specs
Capacity: 16 L
Material: 600D x 600D polyester
Main Compartment Dimensions: 18.6" x 14.1" x 2.2"
Water Capacity: 3 L
Colors Available: Black
MOLLE Loops
MOLLE (pronounced like Molly) Loops are similar to the PALS webbing. MOLLE, or Modular Lightweight Load Carrying Equipment, allows you to attach additional gear securely on your bag. You don't have to worry about things falling off, thanks to the MOLLE system's superior strength.
Conceal Carry Compatible
This bag also has a conceal carry pouch, which allows you to store guns or knives on your trip. It is important you have a separate compartment for any weapons so that you know where they are at all times and something is less likely to go wrong. If you put your knife in a random compartment, you're likely to carelessly just stick your hand in there later while looking for something and you may end up hurt.
Versatile
This bag can be either dragged or carried as well, thanks to the super strong carry handle and the adjustable shoulder straps. We personally love this because you never know what the situation will call for, but either way you're covered. Sometimes you just don't feel like carrying it on your shoulder anymore, which is a good time to start pulling it by the handle instead.
Pros
This bag features superb padding, making it extremely comfortable. It won't feel like the straps are digging into your shoulders, which can be extremely painful, almost any high schooler knows this. It is also very lightweight, which makes this perfect for short trips or just short daytime excursions.
Downsides
As we mentioned, this is a smaller bag, which some people may consider a downside. If you're looking for a 3 day bag, this obviously isn't it, but it is perfect for an afternoon hike, or even to use every day at school. Tactical backpacks can be useful for students, especially once they get into high school or college and start lugging around heavy textbooks, because they can provide you with superior padding, which eases the weight of the books.
Condor Venture Pack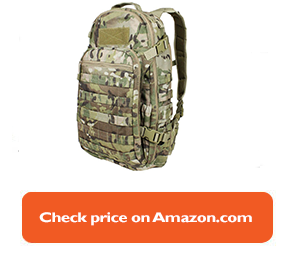 Top Features/ Specs
Capacity: 27.5 L
Material: 1000 D Nylon
Main Compartment Dimensions: 12" x 20" x 7"
Water Capacity: 3L
Colors Available: Black, coyote brown, multi cam, OD green, tan
Laptop Sleeve
The main compartment of the Condor Venture Pack features a padded laptop sleeve so you can safely take your laptop anywhere. This can be especially useful for students who take their laptops to class, but can also be useful for researchers who need their laptop out in the field.
Grommets
The grommets on this bag work the same as the others. They improve drainage and keep everything from getting soaked. This may not seem like a huge feature, but the weather can be unpredictable, so it is nice that they're there. This way, if you get caught in the rain unexpectedly, you are able to keep going and you don't have to write a rain check.
Detachable Waist Belt
The detachable waist belt is one of my favorite parts of this whole bag. Waist belts can be super helpful, but they aren't always necessary and they aren't everyone's style, so it's nice that you have the option to take it off. This comes in handy for students especially, because having a backpack that attaches around your waist isn't exactly cool these days.
Pros
Some bags have a bunch of compartments, which can be nice, but can also get overwhelming. On the other end of the spectrum, there are bags with not enough compartments, and right in the middle is the Condor Venture Pack. It has 5 compartments, which is the perfect number in my opinion, not too many, but not too few. This allows you to organize everything and actually remember where stuff is since there is only 5 pockets, and not 15.
Downsides
Like the other "hydration ready" bags, this one does not have a hydration bladder included. Of course, you can fit a water bottle in this bag, no problem. You probably even already have a favorite water bottle, so it doesn't matter that this one doesn't come with one. Everything else about this backpack is great, so it is still one that we recommend.
Explorer Tactical Gun Concealment Backpack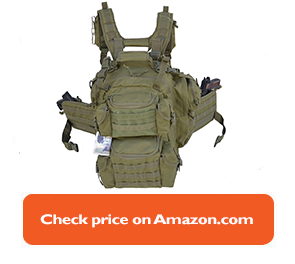 Top Features/ Specs
Capacity: 56 L
Material: 600D x 600D polyester
Main Compartment Dimensions: 20" x 11.5" x 11"
Water Capacity: 3L
Colors Available: ACU camo, black, CT tan, olive drab green, woodland digital
Conceal & Carry Compatible
This bag has several different pockets and compartments, so it's no surprise that it is concealed and carry compatible. Every hunter needs his trusty companion piece, and this bag allows it to stay right at your side.
MOLLE System Webbing
The MOLLE system webbing on this bag's shoulder straps and along the lower portion of the bag gives you plenty of room to add onto an already amazing bag. You can add more pockets, pouches, rings, and gizmos until it is to your liking. It's also easy to switch out anything on the webbing, so if your needs change from one trip to another, the Explorer has got you covered.
10 Pockets
With 10 pockets, you can easily organize your possessions and get to everything easily. Instead of digging through one giant compartment, you can go to a specific compartment and just pull out what you need.
Pros
This tactical backpack is super affordable, and considering everything you're getting with this backpack, and it's hard to believe that just how affordable it is. Other bags this size can cost over twice as much, and they don't even always come with a lifetime warranty. Whereas, the Explorer comes with a lifetime warranty to back up your purchase.
Downsides
Some people consider it a drawback that this bag is made from polyester. However, it isn't the weak polyester that you're used to seeing in clothing. If this bag were made from that polyester then I'd consider it a downside too. The truth it, this backpack is made from a super strong polyester and is just as durable as any other tactical backpack.
Direct Action Dragon Egg Tactical Backpack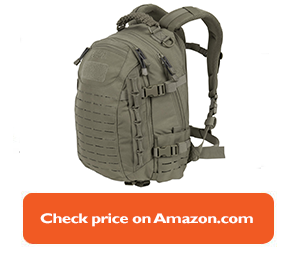 Top Features/ Specs
Capacity: 25 L
Material: 500D Nylon
Main Compartment Dimensions: 19" x 10.6" x 7"
Water Capacity: 3 L
Colors Available: Adaptive green, black, coyote brown, multi cam, Band lands, sand 
storm, and grey
MOLLE/PALS Webbing System
Although MOLLE or PALS webbing is already an extremely helpful feature, the webbing on this bag is even better. The laser cut webbing does not absorb moisture like it typically would. This means water is less likely to actually get through your backpack and into your possessions, especially those expensive electronics.
Heavy Duty Zippers
Again, the grip molded zippers are one of my favorite features of this backpack. The zippers are extra big so that you can use them easily, even with gloves on. Regular, small zippers can be difficult to grasp while you are wearing gloves, and you surely don't want to take your gloves off every time you need something from your bag.
Padded Sleeve
On the inside of the rear pocket of this bag is a padded sleeve, designed to hold things like, your laptop or iPad. You don't have to worry about your laptop jostling around and bumping into things, and it is protected by the padded sleeve.
Pros
This backpack is very comfortable, which is at least partly due to the shape of the bag. The bag is more egg shaped than the other bags, which means it has a smaller height and width, and also makes it more comfortable. This is another one that would be good for students, since it is small and compact it would be easier to navigate the hallways and through people.
Downsides
The only downside of this product is that, when you buy it online, you don't get any additional accessories with it. All you get is the bag, which is still a great tactical backpack, and you get to experience the fun of customizing your bag with accessories or additional pouches, etc.
MOLLE II Rucksack Backpack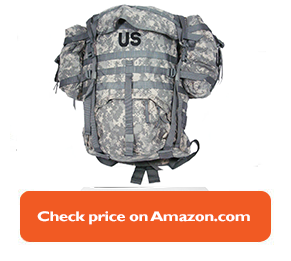 Top Features/ Specs
Capacity: 82 L
Material: 1000 D Nylon
Main Compartment Dimensions: 21.1" x 15.2" x 6.2"
Water Capacity: N/A
Colors Available: ACU Camo
Polymer Gen-iv Frame
The double polymer gen-iv frame gives this backpack incredible support, and it does the same for you. The frame may take some getting used to because you can actually feel it, which people don't expect. The ribs of the frame sort of wrap around your body a little bit, improving both comfort and range of motion.
Removable Pouches
Next up, the removable pouches allow you even great customization power. Typically you can add more pouches to a bag, but you can't take them away, which isn't the case here. You are able to remove this bag's pouches and even the MOLLE webbing is customizable.
Top & Bottom Access
What makes this bag different is its top and bottom access. You can easily get inside this bag by using the top, or by using the bottom of the bag. Although this doesn't solve all your problems, it does make finding what you need easier.
Pros
You have probably already noticed that this is the biggest tactical backpack on the list, as far as capacity goes. This bag can hold up to 82 L! That blows all the other bags out of the water, honestly. Since this bag is so big, what we like to do is put our sleeping on the inside, since it can actually fit, which makes things easier.
Downsides
Unfortunately, this bag is not hydration compatible. We're sure you could still fit plenty of water in the spacious backpack, but we guess there is no specific pocket for it. This isn't a huge drawback at all, just a bit inconvenient. But overall, this is an extremely versatile and durable tactical backpack.
So Who's the Winner?
The tactical backpack that you choose may not be the same one as ours, but that's okay as long as it fits your needs. With that being said, our personal winner is the Maxpedition Kodiak Gearslinger. With a capacity of 22.6 L, it is just the right size for me and my adventures. The Gearslinger is also made from very durable materials, so we feel like we can trust that it can keep up with us. Of course, some bags have features the Gearslinger doesn't, but they weren't important to us, but that's not to say they aren't important to you.
As stated early on, your needs will depend on what you plan to do with the backpack, how often you plan to use the backpack, and what is the most comfortable for you. Whatever backpack you go with, you can be assured it is a quality product, one that you will likely have for a long time.