We think we can all agree that printer ink is very expensive. But what if there was a way to decrease printing costs by up to 95%? This is where CISS printers come in. What is a CISS printer? Stick with us to find out.
One of the most common questions we get from our readers is what gadgets can one buy that will save them money in the long run. The number one answer to this question has to be CISS printers. In this article, we're going to cover everything you need to know about CISS printers and in particular, Epson CISS, including the top 5 printers for 2019.
For those of you who are in a rush and just want to know what are the best CISS printers of 2019, here's a quick reference table with the 5 printers we included in our round-up.
| Printer name | Maximum yield (black pages) | Maximum yield (color pages) | Speed (pages per minute) | Editor's Rating | Check price |
| --- | --- | --- | --- | --- | --- |
| Epson ET-2650 | 4,000 | 6,500 | 9 (black) / 4.5 (color) | 7 | Check price |
| Epson ET-3600 | 11,000 | 8,500 | 9 (black) / 4.5 (color) | 8 | Check price |
| Epson Workforce ET-4550 | 11,000 | 8,500 | 9 (black) / 4.5 (color) | 9 | Check price |
| Epson Workforce ET-16500 | 10,500 | 11,000 | 9 (black) / 4.5 (color) | 10 | Check price |
| Epson WorkForce Pro WF-R4640 | 20,000 | 20,000 | 9 (black) / 4.5 (color) | 10 | Check price |
| | | | | | |
What are CISS printers
CISS stands for Continuous Ink Supply System, which refers to the mechanism these devices use for printing. To understand how CISS printers work, let's first take a look at how traditional printers operate. Traditional printers can use two different techniques: inkjet printing and laser printing.
Inkjet printers – explained
Inkjet printers are the most common type of household printer and they use cartridges filled with small amounts of ink (20 to 50ml), running horizontally across the page at relatively high speed. According to Consumer Reports
http://www.consumerreports.org/cro/magazine/2013/08/the-high-cost-of-wasted-printer-ink/index.htm
 , the average ink cartridge costs from $13 (on the very low end, such as recycled cartridges) to $75 per ounce (for premium branded cartridges), making printer ink more expensive than gold. The average inkjet cartridge lasts from 100 to 200 pages for normal use, or much less if you print a lot of photos.
The main advantage of inkjet printers is the low upfront investment. Manufacturers often sell these printers at a loss because they know they can more than make up for it by selling overpriced cartridges. To avoid this, people have been using third-party services that offer to refill ink cartridges when they get empty, saving up to half of the cost of buying a brand new cartridge. Sadly, printer manufacturers quickly caught on to this and inserted a microchip into every cartridge, that detected when the ink was low and blocked printing even after the cartridge had been refilled. This mechanism is still in place today. Of course, people created software tools to reset cartridge chips, but most customers lack the technical skills to use such software, so the inkjet business continues to be as profitable as ever.
Another advantage of inkjet printers (and this includes CISS printer, which we will cover extensively below) is the fact that they can print on many different types of paper and they excel at printing images. All professionally printed material (photographs, banners, roll-ups, etc) is produced using inkjet printers, or more specifically, CISS printers. Continue reading to find out more about why this is the case. But first, let's take a look at the most popular alternative to inkjet printers: laser printers.
Laser printers – explained
The traditional alternative to inkjet printers are laser printers, that use a laser to charge the paper with static electricity, then release a small amount of powdered ink called toner, which sticks to the statically charged sheet of paper. This process is much faster and more efficient than traditional inkjet printing and for this reason, laser printers are the default choice for office environments. Unfortunately, laser printers come with their own set of problems: the printers are big and expensive, sometimes up to 20 times more expensive than traditional inkjet ones. On top of this, laser printers require more maintenance and the big toner cartridges tend to be very expensive.
When taking into account the upfront cost of the printer as well as maintenance, refill, and repair costs, laser printing tends to be more expensive than traditional inkjet printing. Nevertheless, they are still the preferred choice for businesses because they can print much faster: we're talking easily 20 pages per minute, as compared to an average of 6 pages per minute for inkjet printers.
How CISS printers work
We've covered the two main types of printers, so it's time to talk about the main topic of this article, CISS printers. CISS printers are very similar to traditional inkjet printers, the only difference being that instead of relying on ink cartridges, they hold the ink in large ink tanks of 70ml or more each. The ink tanks are connected to the print heads via rubber tunes. CISS ink is sold separately in large bottles and costs around $7 per 100ml recipient. Depending on the specific type of CISS printer, they may be 4 to 6 such recipients, one for black ink and the rest for the main primary colors. A full CISS ink tank will last the average household a year or more. This makes CISS printers the most inexpensive printing option by far, with up to 95% savings compared to traditional inkjet printers and laser ones.
CISS printers – from professional use to home use
As briefly mentioned above, virtually all professional printing workshops use CISS. Let's see how this trend went from professional printers to home use. Initially, people started retrofitting their existing inkjet printers using the so-called "CISS system". This meant connecting a third-party ink tank system to their printer's cartridges, leading to a significant decrease in printing costs. The main problem with CISS systems is that they're hard to install and therefore inaccessible to the common user. Additionally, since the printer was not initially meant to be used this way, maintenance costs tend to be higher than usual. There are third-party services that offer to install CISS systems for you, so if you just want to keep using your old printer without having to buy a new one this could still be an option. Doing it at home is possible but not recommended, hey seriously damaging the printer or just making a mess. Printers retrofitted with CISS systems face the same problems like the ones that use refilled cartridges, meaning that the printer software with the block printing when it detects that Inc. cartridges should be empty, so a dedicated software has to be used to reset the printer's sensors.
The current state of CISS printer manufacturers
Epson was the first manufacturer to embrace the idea of CISS printers. How they came to embrace this idea is a funny story. Sales executives at Epson noticed a strange thing: sales were increasing for older, cheaper models, sold in printer repair shops. This was an odd thing for multiple reasons: first of all, why would people want to buy old printers? Secondly, why were printer repair shops selling so many printers, when their main activity is to repair old ones? Being smart people, Epson executives went to talk to the people running these repair shops with huge sales and what they discovered blew them away. People were buying old printers to install CISS systems on them. Repair shops were getting so good at installing those CISS systems, that they started offering warranties on their work. Naturally, this meant that CISS printing was spreading like wildfire through word of mouth.
After finding out about the CISS printing trend, Epson had three choices:
Ignore the trend and keep selling high-margin traditional inkjet printers (what other manufacturers chose to do)
Try to stop/slow down the trend by adding additional security mechanism to their printers to prevent CISS systems from being installed. This was a terrible idea because even if it worked, people would just move to a different brand. No manufacturer chose to do this.
Build their own CISS printers. Recognize that CISS printers are the future and use the powerful Epson brand to grab as much market share as possible. This is what they did.
This decision worked. Nowadays the vast majority of CISS printers are Epson and most of them are native CISS printers. Although Epson did not abandon their old traditional inkjet printers, they are slowly moving towards a CISS-only future. But hey, wait a minute – what about the other manufacturers? HP, Brother, Canon, Panasonic – what are they up to? Brother seems to have made up their minds to follow on Epson's footsteps, but they're still way too slow at doing that. They are currently testing the market in Asia and Eastern Europe. In the USA & Canada, they introduced the so-called "INKvestment cartridges", which are a middle-ground between traditional cartridges and CISS ink tanks. Basically, they increased the capacity of their cartridges and kept prices the same. HP introduced Instant Ink, which is nothing more than an (expensive) ink subscription service. The other manufacturers have decided to ignore the CISS trend and focus on selling overpriced ink cartridges.
Best CISS printers of 2019 – Round-up and review
Now that we've covered everything there is to know about the various type of printers, it's time to take a look at what the market (in this case Epson) has to offer when it comes to CISS printers. For this purpose, we selected the top 5 printers you need to know about and we sorted them by price. So check out our reviews and keep reading for our Buyer's Guide on Epson CISS.
#5. Epson ET-2650 – The most affordable CISS printer on the market
We're starting our round-up with the awesomely-priced Epson ET-2650. The Epson CISS ET-2650 is the latest addition to Epson's entry-level CISS printers and therefore its purpose is to offer as many features as possible, while at the same time trying to keep costs down. This printer's main purpose is to attract price-sensitive home users who are looking for the cheapest way to print. Make no mistake: with 4,000 black pages and 6,500 color pages, this printer offers incredible performance. Epson was first to introduce native CISS printers and thanks to their more affordable products like the ET-6550 they managed to grab significant market share. This printer is perfect for home use and its ink tank capacity is enough for over a year of moderate use.
Pros:
Affordable price
Print, scan, copy
Wireless printing
Cons:
Small paper capacity (100 pages)
Key takeaways:
If you're new to CISS printing and are looking for an affordable all-in-one, you should definitely consider the ET-2650. At 10 pages per minute (black) and 4.5 pages per minute (color) this is not the fastest printer on the market by any means, nor is it the most silent. But it offers great value for money and it's all that you need for moderate use.
#4. Epson ET-3600 – The best Epson CISS printer for photography enthusiasts
The ET-3600 is specifically targeted to photography enthusiasts: it is more advanced and all-around better than a home printer, yet it doesn't try to compete with the bulky office "beasts". This is because it doesn't need to: the ET-3600 has a decent printing speed of 13.7 pages/minute for black pages and 7.3 pages/minute for color pages.
This is a big improvement on the ET-2650, especially when it comes to color printing. The larger 2.2″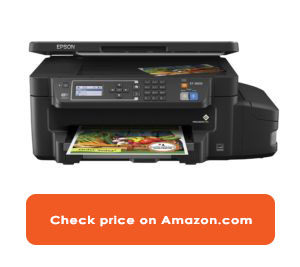 display makes it easy to preview images before printing them and the support for wireless printing and AirPrint means you can print from any device. All this is pretty cool, but our favorite feature about this printer is the amount of ink it comes with: enough for 11,000 black pages and 8,500 color pages. This is a crazy amount of ink that with normal use can last anything from 2 to 4 years. Talk about lowering printing costs!
Pros:
Enough ink for 2 to 4 years
Fast printing
Quality photo printer
Cons:
No document feeder
Display is mono-color
Key takeaways:
This is a truly amazing printer from Epson and if you're looking for an all-around excellent printer with tremendous value for money, the ET-3600 is perhaps the best choice. This is a great buy for photographers or for people who just want to forget about buying ink for the next 2 to 4 years.
We've covered home CISS printers so now it's finally time to talk about professional ones.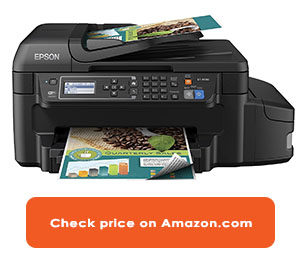 The Epson WorkForce ET-4550 is a powerhouse, combining pretty much everything you might need in an office: wireless printer with scanner, copier, fax, Ethernet connection, and Wi-fi Direct. Add 150 pages paper capacity, 30-page automatic document feeder and an initial supply of ink for up to 11,000 black and 8,500 color pages, and the result is the best bang-for-the-buck when it comes to office CISS printers. We recommend this printer for small offices with printing needs of up to 1000 pages/week.
Let's take a look at the features that make the ET-4550 a great office printer.
Ethernet connection

. This is a great feature that allows you to connect your printer to a router or access point and set it up as a network printer, a must-have for office environments.

Automatic document feeder

. Let's face it: if you need to copy or scan large amounts of documents, there is no way you will be manually switching pages inside the scanner. The automatic document feeder is a defining feature of office printers and the ET-4550 is no exception.

Automatic 2-sided printing

. This is not necessarily a must-have, as nowadays all computers have the option to print two-sided via software. However, this requires re-feeding the paper once the first side is ready, so it's not as convenient and it doesn't look very professional. Automatic two-sided printing takes care of this aspect for you.

Fax

. We can't remember the last time we used a fax – but hey, it's there if you need it and it certainly looks professional.
Pros:
Great value for the money
Fast printing
Automatic document feeder
Automatic two-sided printing
Cons:
Not recommended if you need to print over 4000 pages/month
Key takeaways:
This office printer is ideal for most small businesses with moderate printing needs. It offers great bang for the buck and provides a nice step-up from higher-end home printers like the ET-3600. At 13 PPM (black) and 7.3 PPM (color), it's fast, but it's not the fastest office printer out there. Still a great choice as long as you don't need to print thousands of pages per day. Keep in mind that next higher-end CISS printer costs pretty much twice as much.
#2. Epson ET-16500 – The best professional office CISS printer
As you might have noticed, we're advancing towards higher-end CISS printers. The Et-16500 is a huge step forward from the ET-4550 when it comes to paper capacity and printing speed. When printing over 5,000 pages/month and up to 30,000 pages/month, speed and paper capacity suddenly become very important, because you want to be able to print a large document and not have to worry about running low on paper or having to wait one hour for the print job to complete. This is also why this printer has 2-sided automatic document feeding. The two-sided automatic document feeding and dedicated one-page rear paper capacity allow you to print two-sided documents without having to refeed them to the printer halfway through the print job.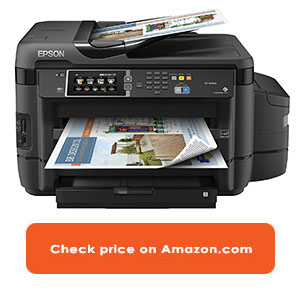 Let's see what the ET-16500 has to offer over the much cheaper ET-4550
Larger color ink tank. From 8,500 to 11,000 color pages. Again, 2,500 extra pages does not seem much but it quickly adds up.

Faster printing speeds

. 18 PPM (black), 10 PPM (color). This is a roughly 40% improvement on the ET-4550.

2-sided ADF

. As mentioned earlier, automatic document feeding is a must have for office printers. Having ADF for both scanning and 2-sided printing is a huge advantage.

Over 3X larger paper capacity

. From 150 to 500 pages paper capacity: this means the ET-16500 can fit an entire 500 pages pack. Talk about convenience!

Larger

4.3-inch

color touch display

. The printer's display is twice as big, it's full color and can respond to touch inputs.
Pros:
Huge paper capacity
Very fast printing for a CISS printer
An automatic document feeder for both scanning and two-page printing
A large color touch display
Cons:
Significantly more expensive than the ET-4550
Key takeaways:
There's no doubt that this printer was made for heavy printing. 500 pages paper capacity coupled with 2-sided automatic document feeding means that the ET-16500 can print a 1000 page document in 55 minutes without breaking a sweat. Granted, this is not the fastest printer on the planet, and it's not even the fastest CISS printer, but it's definitely fast enough for most use cases. Keep in mind that CISS printers are all about efficiency so if you're printing thousands of pages per week you are looking at saving significant amounts of cash.
#1. Epson WF-R4640 – The one CISS printer to rule them all
Because we like to save the best for the end, we present to you the Epson WF-R4640. Since this is the most powerful high ends CISS printer on the market, it's obviously not for everyone. First of all, the price tag is prohibitive for most customers. This printer is almost three times more expensive than the ET-4550, which itself is not a cheap printer.
The main idea behind the R4640 was to make a printer that would outperform even laser printers. Take CISS printers, add speed and a huge ink tank and you've got yourself an R4640 CISS printer. The most impressive feature of this printer has to be its ink yield: we are looking and 20,000 black or 20,000 color pages, which is twice as much as the ET-16500 and 5 times more than then entry-level ET-2650. Not many people need this kind of ink capacity, but for the ones who do, this is basically the best choice you have.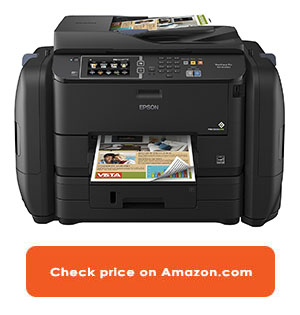 Looking at the WF-R4640's capabilities compared to the lower-tier models we have:
Huge black and color ink tank. From 10,500/11,000 to 20,000/20,000 is an almost 100% improvement. Good job, Epson!

Once again, faster printing

. 20 PPM (black), 20 PPM (color). Color printing is 100% faster on the R4640 compared to the ET-16500.

50 pages rear paper capacity

. More paper capacity in the rear. Also, a 35-page document feeder.
Pros:
The biggest ink tank of them all. Ink yields of up to 20,000 black/color pages
The fastest printing of any CISS printer: 20 PPM for both black and color
Print-shop quality results thanks to Epson's PrecisionCore technology
Cons:
Key takeaways:
What does it mean to be the best CISS printer of them all? This printer seems to give us a clear answer: just combine performance and cost savings to achieve the Holy Grail of professional printing. We said that this printer is expensive, but mind you, this is only true compared to the other CISS printers. If we were to compare it to some top-tier laser printers, which would be this printer's main competitors, it would actually come out as cheap. When taking into account the insane cost benefits of CISS printers, this is actually great value for money. Once again, not for everyone, unless you need very fast printing and you have a bigger budget.
CISS Printers – Buyer's Guide
Now that we showed you what are the best CISS printers this year, you are probably wondering which one is the right one for you. Clearly, there's no definitive answer and it all comes down to your needs and expectations. In this buyer's guide, we are going to cover what to look for and what to avoid in a CISS printer based on your use case.
What to look for
As covered in the introductory section of this guide, all CISS printers use the same mechanism, which allows them to print for significantly less money than other types of printers. The difference between the various models of CISS printers is much less important and there are other factors you should keep in mind when choosing your next CISS printer.
Speed
Let's face it: CISS printers are slow because they work by running the print heads back and forth against the paper. As you can imagine, this takes time, especially when compared to laser printing. This is even truer in the case of entry-level CISS printers. If you care about speed, go for a faster printer, like the WF ET-4550 or better. When talking about the speed we're not just referring to the number of pages per minute the printer can handle, but we also take into account features such as automatic document feeding, automatic two-sided printing, and even paper and ink capacity.
Paper capacity
Paper capacity has to be the most underestimated feature regardless of the type of printer we are talking about. People ask about speed, printing costs, even wireless printing, but somehow always forget about paper capacity. If you plan to print more than 500 pages/week, you should care about paper capacity. 100 pages are not enough for any kind of serious printing and you will run into situations when the printer runs out of paper and stops halfway through the print job.
The ideal paper capacity is 500 or more, so as to cover an entire set of paper. The problem with paper capacity is that printer manufacturers use it in a similar way to how phone manufacturers use storage capacity: to increase prices. So if you're wondering why you're not seeing any mid-level printers with paper capacity above 150, it's a trick that manufacturers use to make higher-end printers more appealing. That being said, you should still choose printers with higher paper capacity when you can afford them.
Versatility
This is another often overlooked feature that's actually quite important when deciding what type of printer to go for. It's also one of the few cases when if you work in an office environment you don't need the most expensive option and you probably do if you just print at home or, more importantly, if you have a photography studio. If you need to print on paper sizes greater than A4, as well as on very thick paper, go for the ET-16500.
Conclusion
The market for CIS printers is still developing, with Epson being the first manufacturer to take this niche seriously. However, enough printers exist for the vast majority of needs – and in this article, we showed you the very best CISS printers of 2019. Whether you're looking for speed, versatility, or you just want to save some hard-earned cash, there's a CISS printer for you.